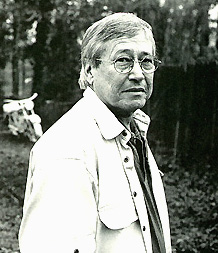 Barry Hannah, one of the great literary talents of the South, died yesterday. His death, while not necessarily a surprise (he was 67, but he'd lived a hard 67 years), still hits me like a freight train.
Hannah lived his entire life in Mississippi. He was born there, raised there, got his undergraduate degree from Mississippi College, and he ran the creative writing program at the University of Mississippi at Oxford, where Faulkner lived.
Here's
his obituary from the New York Times.
Hannah embraced the South, and not just the South of Faulkner or Reynolds Price, but the South as it was and is, something a lot of Southern writers have failed to do over the last forty years since Hannah's first book,
Geronimo Rex
was released.
He was a master of both the novel and the short story, and his first story collection,
Airships
, is a classic. He was nominated for both the National Book award and the Pulitzer Prize. His work anticipates writers like Tom Franklin, William Gay, Larry Brown, Jack Butler, and even Carolina writers like George Singleton and Ron Rash. He was a bighearted bastard of a writer, and you knew it because he loved his characters with bite and wit, and loved them for their darkness and failings, not in spite of them.
At times, he was a rambling mess of a man--everybody who's ever met him has a Barry Hannah story--and yet he was funny and took to people in an instant. He went to college with my mother. Everytime they had the fortune to cross paths, he reached out to her. When I interned at the Greensboro Review, he wrote personal notes of recommendation for his students who submitted stories.
If my slight, scattered, off-beat reflections here seem to lack focus, it's because I find it hard to get my head, my arms, anything around exactly what the man and his writings meant to me, or to books, or to the South. He's significant as a literary figure, yes, and a total character, sometimes even a cliche of the hard-drinking southern writer, and somebody I felt I knew, even if only a little.
Late in life, like in the last six years or so, he found Jesus. I was inclined to put that last bit in quotes because I think of it as a Southernism, but I realized it might be taken ironically. And that, in a nutshell, might be the best way to understand Hannah and his writing. God rest, Barry Hannah, and thank you for taking time out from fishing to write such great stories. And if you find that last sentence funny, great, but if you think I sound negative, you're wrong. The man loved to fish.