Decatur has an official logo.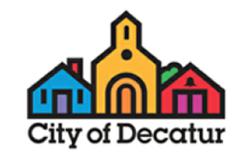 Decatur has an official motto.
A city of homes, schools
and places of worship.
You might think that these are quite bland.
(Compare ours to, say, Claxton, Georgia:
the
Fruitcake capital of the world.)
The logo and motto don't distinguish our great city from any other.
Decatur has some unofficial mottos that I would regard as improvements.
Decatur: where Mayberry meets Berkeley.
If you have ever had a conversation with anyone from the city about the quality of the logo or the motto you quickly realize that there is no desire to change these things given all the logistical issues that would be involved.
So what Decatur needs is a new symbol.
A new means of signifying its identity.